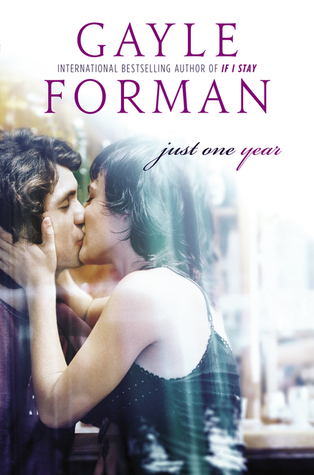 TITLE: Just One Year
AUTHOR: Gayle Forman
PUBLISHER: Dutton's Juvenile
RELEASE DATE: 10 October 2013
HARDCOVER: 323 pages
GENRE: Contemporary
PRECEDED BY: Just One Day
FOLLOWED BY: Just One Night (Just One Day, #2.5)
SYNOPSIS: The heartrending conclusion—from Willem's POV—to the romantic duet of novels that began with Allyson's story in Just One Day

After spending an amazing day and night together in Paris, Just One Year is Willem's story, picking up where Just One Day ended. His story of their year of quiet longing and near misses is a perfect counterpoint to Allyson's own as Willem undergoes a transformative journey, questioning his path, finding love, and ultimately, redefining himself.
(Source: Goodreads)
REVIEW:
**This is not a sequel to the first novel, Just One Day. This is the same story in Willem's POV.**
Theme:
Vulnerability of the strong
Traveling
Family
Characters:
Willem→ Willem goes through some deep emotional healing. In this book, Forman goes more into depth with Willem's character. Readers get a sense of what has built Willem's character and personality. In Just One Day, readers do not get a background story of who Willem is; so even though this book is not a sequel, it still intertwines with the full story of these two characters. Willem believes accidents are never a consequence. He lives in the now, yet he lets his past suffocate him.
Ana Lucia→ A lot of people make assumptions throughout this novel, with Ana Lucia being a prime example. Ana Lucia is Willem's ex-girlfriend and readers get a glimpse of Ana Lucia a couple of times in Just One Day. In this novel, readers will discover who she is and learn more about her character. It's no secret that Willem does not do long-term relationships, but Ana Lucia just doesn't seem to understand that. I found her character to be the portrayal of insecure women who are ready to jump into marriage and to feel loved. Ana Lucia is self-conceited and a "planner". She thinks her ideas will always be what Willem wants in their relationship. I found her character funny to laugh at and annoying. She was always starting confusion.
Allyson→ It's kind of funny, but Allyson seemed like a ghost in this novel. Her character has affected Willem greatly, yet she isn't physically there. All she is, is a memory to Willem.
Style/Setting:
Just One Year is set all throughout the world; mainly in Amsterdam and India.
I love how I was able to connect things from book one with book two. It was pretty cool and frustrating though. There was times when I wanted to jump into the book and scream at the characters and give them directions to do this and do that.
I wish Gayle Forman gave more description of the characters so that I would able to picture the scenes perfectly and vividly; but I also discovered that throughout most of the book, I was too absorbed into the reading to care that much about the descriptions—which was a surprise to me. The characters' development was more important than anything else.
I was able to get a sense of Willem's character and personality in this novel. I was able to grasp it and understand who he really is. I believe this novel will make readers rethink their own life decisions.
But I must say this: This is not a love story.
Just One Day companion novels are mainly focused on character building than a love story per say.
——————————————————————————
Forman is great at creating round characters in her novels. She is one of my favorite authors and I will definitely be reading more of her novels in the future. 🙂
Lesson Learned? Don't let life blow you around; make goals for yourself and don't beat yourself up for things you cannot undo. 
**Recommended
Rating:
Book Cover: .1
Character Development/Plot: 3 out of 3
Interest: 1 out of 1
Imagery: .7 out of 1
Total: 4.8 stars
What makes a great novel to you?