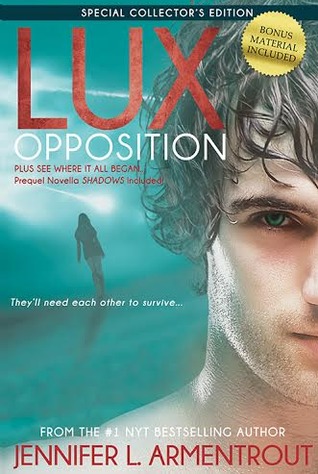 TITLE: Opposition
AUTHOR: Jennifer L. Armentrout
PUBLISHER: Entangled Teen
RELEASE DATE: 5 August 2014
PAPERBACK: 534 pages
GENRE: Urban Fantasy and Science Fiction
PRECEDED BY: Origin
FOLLOWED BY: Bonus Scene
**Note: Opposition (Lux, #5) contains Shadows (Lux, #0.5) at the end of the book.
SYNOPSIS: Katy knows the world changed the night the Luxen came.

She can't believe Daemon welcomed his race or stood by as his kind threatened to obliterate every last human and hybrid on Earth. But the lines between good and bad have blurred, and love has become an emotion that could destroy her—could destroy them all.

Daemon will do anything to save those he loves, even if it means betrayal.

They must team with an unlikely enemy if there is any chance of surviving the invasion. But when it quickly becomes impossible to tell friend from foe, and the world is crumbling around them, they may lose everything— even what they cherish most—to ensure the survival of their friends…and mankind.

War has come to Earth. And no matter the outcome, the future will never be the same for those left standing.
(Source: Goodreads)
**DO NOT READ THIS REVIEW UNLESS YOU HAVE READ OBSIDIAN, ONYX, OPAL, AND ORIGIN**
REVIEW: It's the end of the world! Aliens here! Aliens there! Aliens everywhere! This book is intense, funny, and emotional! It was nothing I expected it to be. I actually didn't know what to expect because Origin left off with such a crazy cliffhanger, it blew me away.
Theme:
Characters:
Daemon & Katy→ Daemon Black is well…Daemon Black (haha). He really has  changed since the first book. I love his relationship with Katy. Their relationship is always interesting and fun to read.  They are one of my favorite couples and will always have a special place in my heart.
Style/Setting:
Once again, this was told in first point of view from the eyes of Katy and Daemon. I love reading Daemon's point of view of things. He is so funny and always has me laughing. I actually look forward and enjoy his point of view more than Katy's.
The description of the action scenes were awesome! They were easy to follow and picture. I love the ideas Jennifer L. Armentrout came up with in this book. The plot had so many twist and were always surprising me throughout the story.
Okay, I thought there were too many sex scenes. I didn't like that. It took away from the importance of Daemon and Katy's relationship.
This book was almost like a dystopia novel! Alien invasion! This series went from a cute-boy-next-door to a end-of-the-world-scenario. When I picked up the first book, I would have never thought this series would have been this intense.
—————————————————————————————————————————————
The ending of this series is great and bittersweet. I am still shock that the series is over. It has been three months since I completed Opposition and I still find myself aching to read anything with Katy, Daemon, Dawson, and the rest of the gang.
Lesson Learned? Sacrifice and selflessness go hand in hand.
**Recommended
Rating:
Book Cover: .1
Character Development/Plot: 2.9 out of 3
Interest: 1 out of 1
Imagery: 1 out of 1
Total: 5.0 stars